Saveer Biotech is presently leading the Agri Biotech Sector in India with its innovation, social responsibility and above all a sound delivery model. We offer a comprehensive range of products, ranging from research to commercial facilities to our clients. The intelligently designed Walk-In Environmental Chamber helps researchers to perform different types of test wherein the temperature and humidity of the sample environment are controlled within certain limits. The role of environmental testing chambers is to examine and test the impact on seed germination and plant breeding through exposure to the environmental effects of temperature, humidity and much more. Saveer Biotech maintains a premier position as manufacturers and suppliers of a high quality walk-in environmental chamber, climatic chambers, and associated facilities. These are designed with reliability, safety, and ease of operating. When custom solutions are required, our expert engineers have the training and experience to ensure that optimal performance does not sacrifice energy efficiency.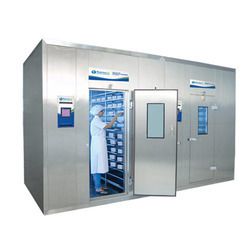 Benefits of our environmental chambers:
All the rooms are developed with microprocessor controls, low/high alarms, and accurate temperature or humidity control.

No steam boilers are used to avoid corrosion over time.

Optional on-site validation service that includes multi-point temperature and humidity mapping has repeatedly proven nearly unbelievable uniformity and control.

In addition to extended warranty coverage,

customization

options are provided.

Multi-level password protection offers high security.

Usage of LED lights helps emit significantly more light per unit of input energy than fluorescent bulbs. These also produce less radiant heat. With less heat used, the cooling requirement for the environmental chambers is diminished and the total energy used by the LED equipped chamber is substantially reduced.

Door handles are coated with an exclusive antimicrobial coating to reduce the spread of pathogens and bacteria.

Ease of installation and removal helps in simplified future relocation.

We also offer Polyhouse, plant growth chamber and Research Greenhouse to our esteemed clients. Saveer is the only company of its kind in the world having its own Center for Excellence for protected cultivation doing extensive research to improve plant growth in protected conditions, optimization of human resources and much more.