Saveer Biotech is a reliable name in the field of manufacturing, supplying and exporting greenhouse. The structures are manufactured under expert supervision keeping in mind the requirements of the clients. Their high quality greenhouses are gaining popularity in the agricultural sector. Following are the benefits of Research Greenhouse production: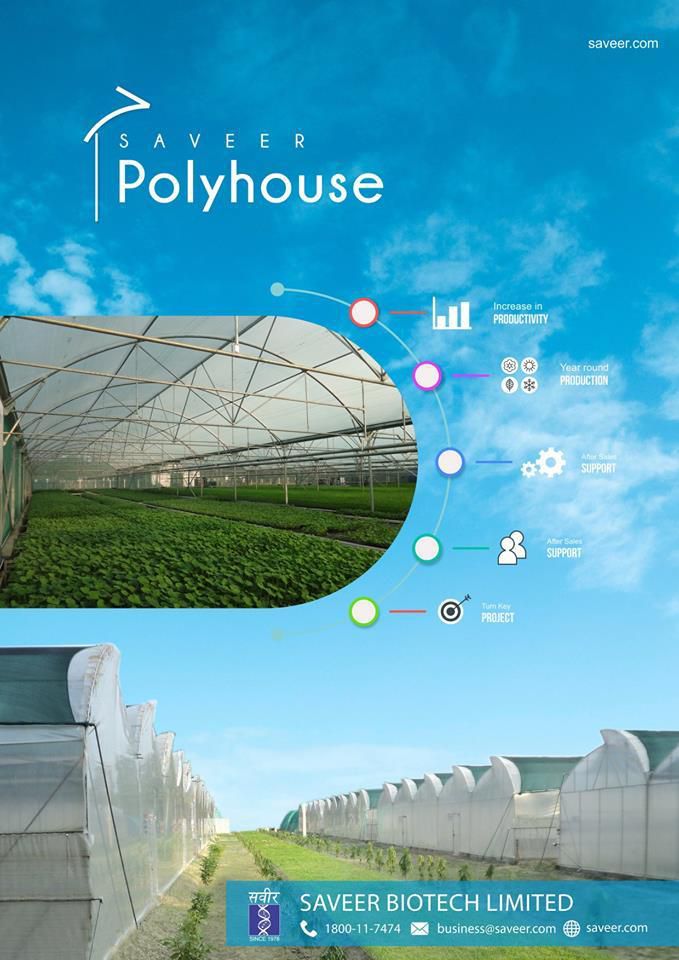 Cultivation of off-season crops
With the ability to control the weather inside a greenhouse, production of demanding species and off seasoned crops is possible throughout the year. The development of plantation is safe from the harsh climatic conditions.
Most suitable climatic condition can be maintained for crops at every stage
The capability to regulate temperature and humidity will help to keep plants in an optimal environment. This will help in reduction of the production period with respect to outdoors.
The crops produced in a research greenhouse are of high quality. There is even an increase in the quantity of production due to favorable conditions inside a Polyhouse.
Greater control from weeds, pests, and diseases
The crops grown inside can be protected from pests, animals, weeds, and insects. Moreover, the use of toxic chemicals or pesticides also gets reduced.
Greater protection against extreme weather conditions
Cultivation in greenhouses protects the plants from extreme weather conditions, such as snow or hail, heavy rain.
Efficient use of productive resources
By including techniques such as hydroponics and fertigation it is possible to minimize the consumption of fertilizers and water as crops only use what they need for their development, minimizing production costs.
With the increasing demand for innovative products and an extensive range of protected farming techniques, Saveer strives hard to provide the best services to the clients. The dedicated team work towards improving farm productivity and quality to increase profit.