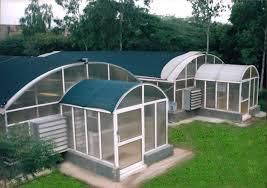 The world's climate is drastically changing. Temperatures that were prevalent two decades ago are no longer found and this impulsive change in the weather conditions has led to certain crops failing to produce the required yields throughout various regions on this planet. This is primarily because pollution rates are as high as they ever could be, the soil has been extensively used and fertility is on a down low while the water sources are getting depleted too due to abnormal heat.
Here are a few features of Saveer's hi-tech research greenhouse:
The greenhouse environments are all computer controlled resulting in carefully regulated environments.

The structure is constructed with hot galvanized GI pipes that do not rust, resulting in a maintenance free greenhouse.

Ultra-Violet stabilized polycarbonate sheets are used for cladding in Saveer Research Greenhouses.

Algae resistant cooling pads that are easy to open and should be changed only when dry.

Saveer's lighting system comes with special ballast protection and is specifically designed to last longer.

Water quality is an essential component for plant growth and is maintained in Saveer Research Greenhouses.

Provision of anteroom with double door entry protects the plants in greenhouse free of any pest and diseases.

Long lasting and rust free benches with movable tops.

Various solutions for shading

Alarm system.
But to literally beat the heat, Saveer, one of the leading greenhouse suppliers in India brings to you its advanced range of research greenhouse that aids and facilitates plant growth in climates and regions where plant life is hard to sustain.