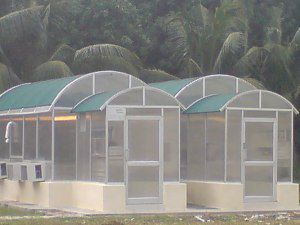 All of us are well aware of the fact that agriculture is the backbone of India's economic activity. The current agricultural scenario in our county is a mix of magnificent achievements and missed opportunities. If India has to appear as an economic power in the world, then our agricultural efficiency needs to be equal to those countries, which are presently rated as economic power of the world. Now, we need to implement a new and effectual technology which can continuously improve the productivity, profitability, sustainability of our major farming system. In current scenario, you just can't get dependent on natural environment for the soilless cultivation of your plants because there is no surety whether the climate will remain in favorable condition or not.
ECOLOGICAL IMBALANCE
The fading in the agricultural land and a continuous shifting of people from agriculture sector to other sector has resulted in ecological imbalance. To eliminate this problem, the concept of containment facility and commercial greenhouse was introduced, to motivate people and gardener to grow vegetables, fruits and herbs plants in their own small gardens. The major issue faced during the greenhouse farming that it requires big space. For eliminating this tricky situation, Saveer Biotech came up with the idea of walk in environmental chamber where one can grow quality plants as per the desired climatic conditions in a limited space.
SUCCESSFUL PROJECTS ACROSS THE WORLD
In the field of agriculture, Saveer Biotech is a renowned as a commercial greenhouse manufacturer. The company is a Scientific and Research Organization, which is approved by the Ministry of Science and Technology. The organization has excellently accomplished more than 6000 projects in India, Trans Asia, Africa and Antartic polar region and now looking forward to increase the number of successful projects across the world. For that reason, if you are looking forward to grow quality crops or pesticide free food then immediately get in touch with Saveer Biotech to yield best.